A simple, non-gendered, hi-vis on and off bike accessory. The first time tBab has worked with an OS factory - read more below.    - reflective detail on heels - arch support - anti-microbial - moisture-wicking - extra toe + heel reinforcement   34% Coolplus, 32% Nylon, 31% Protimo, 3% Lycra size US 8.5 (one size only)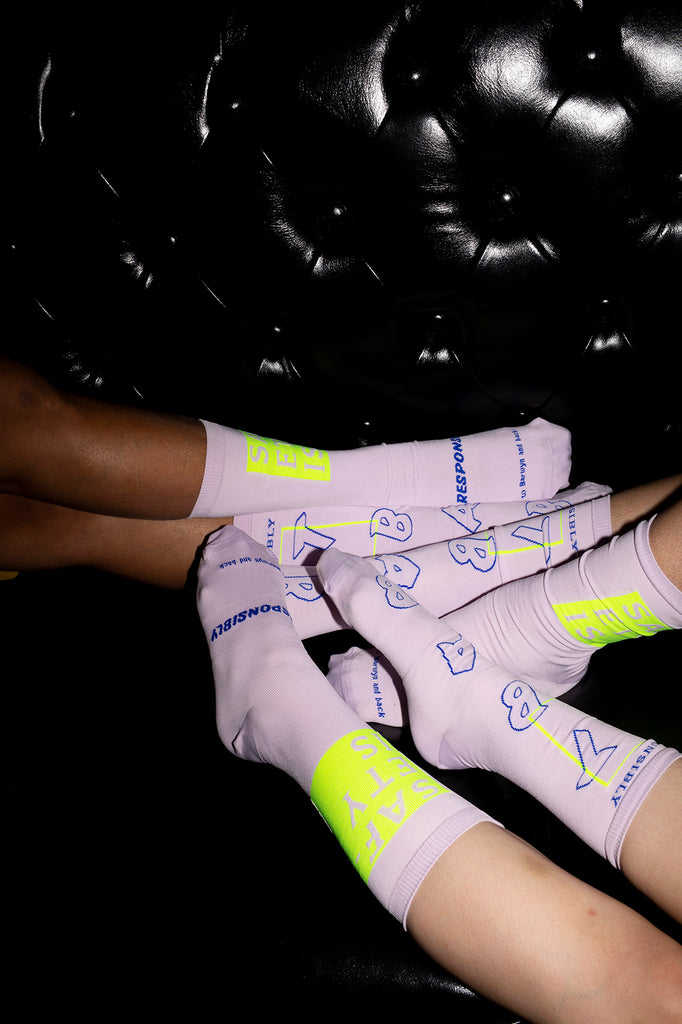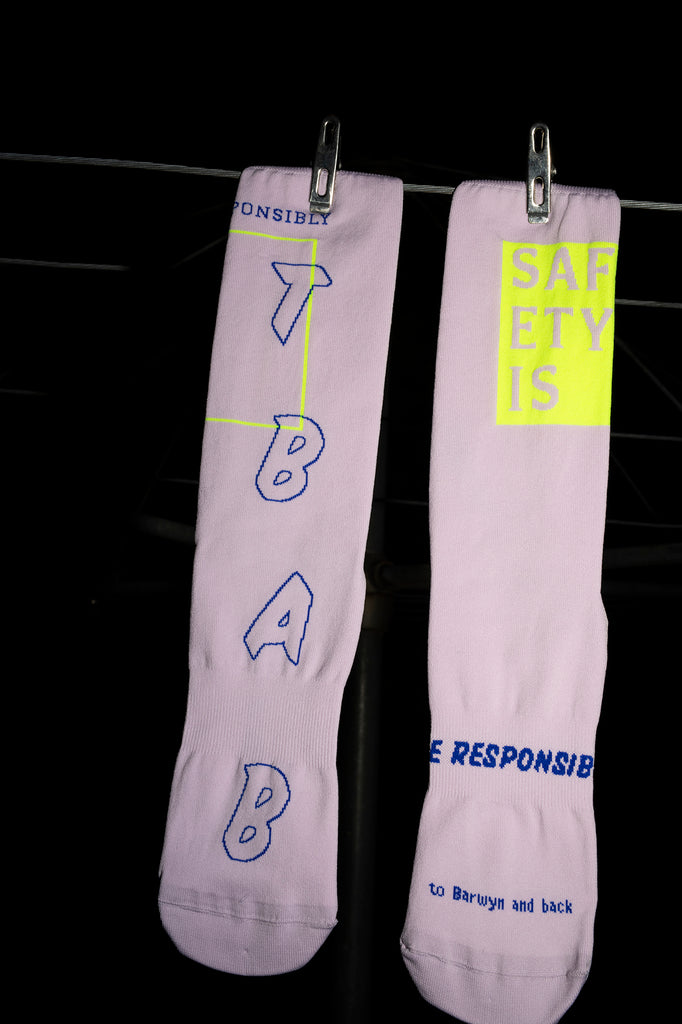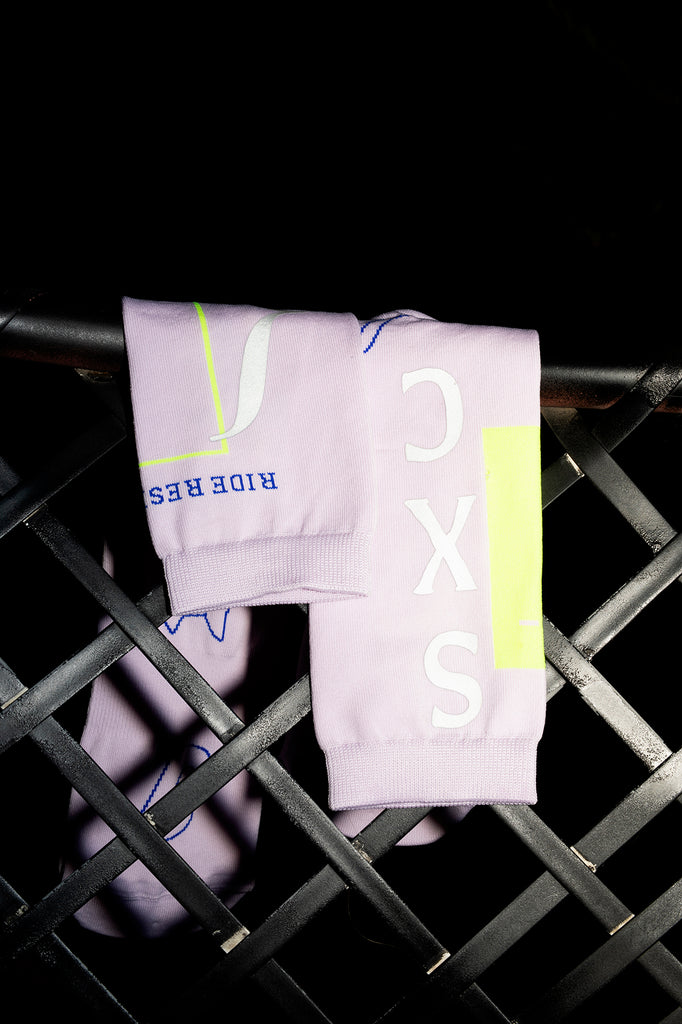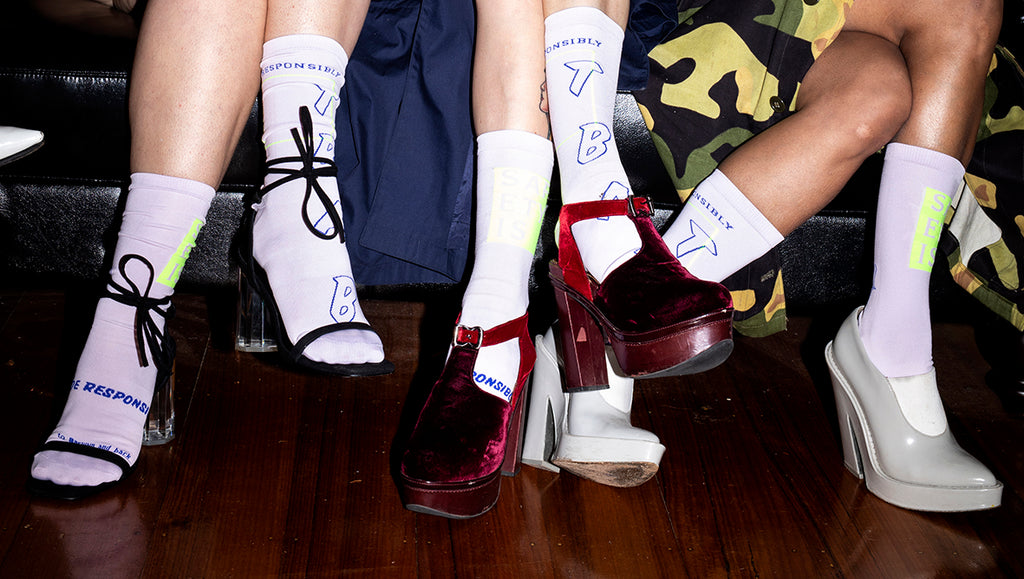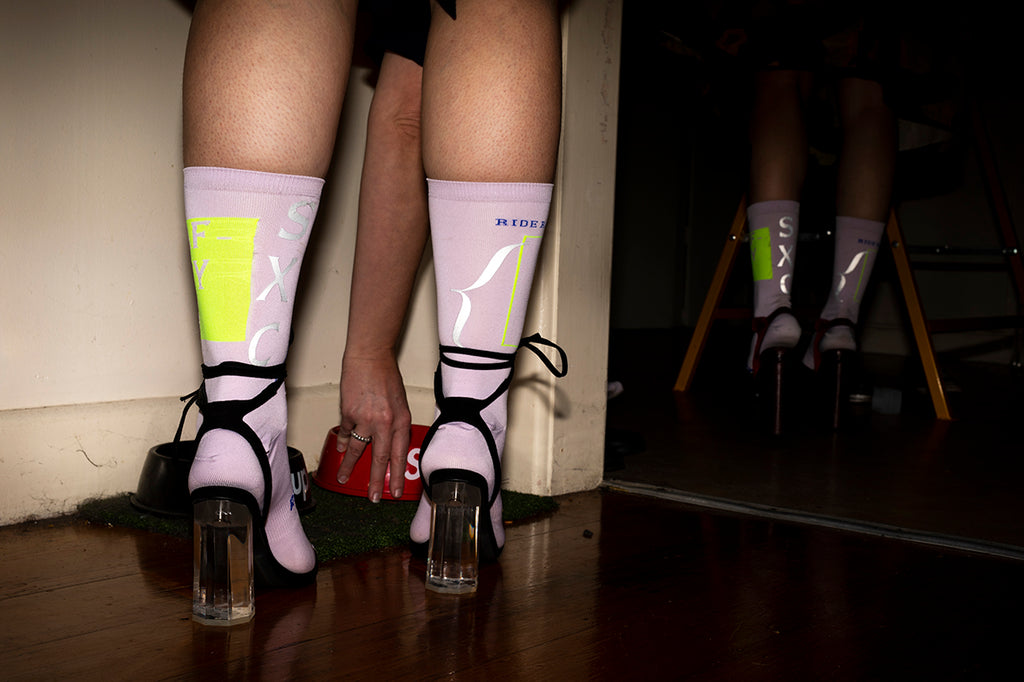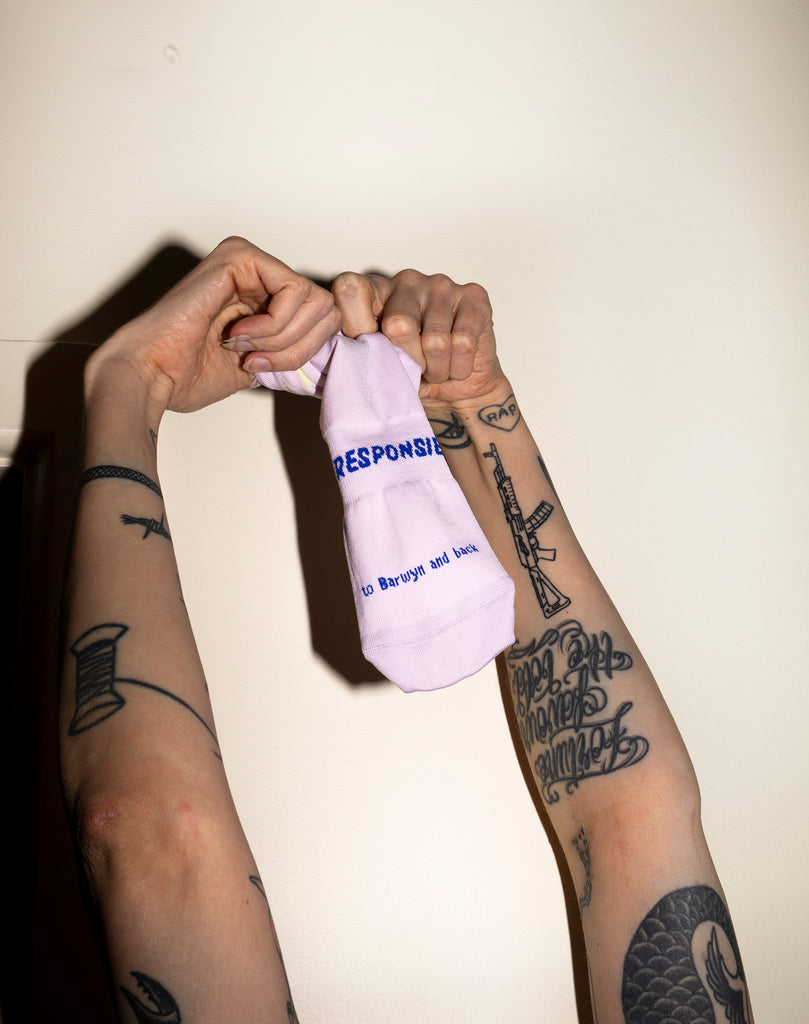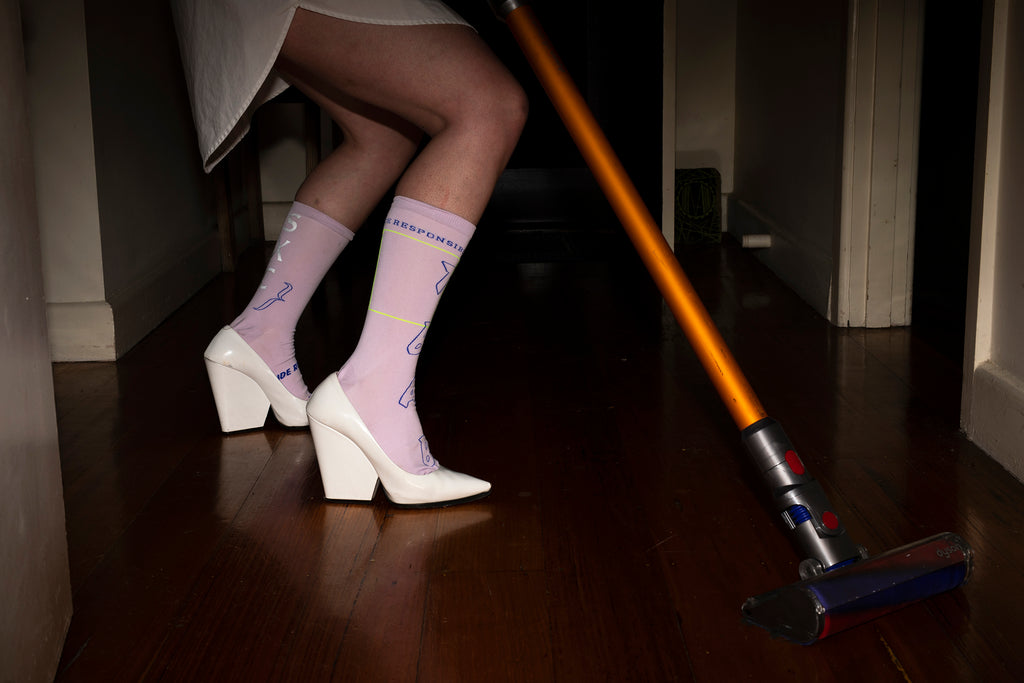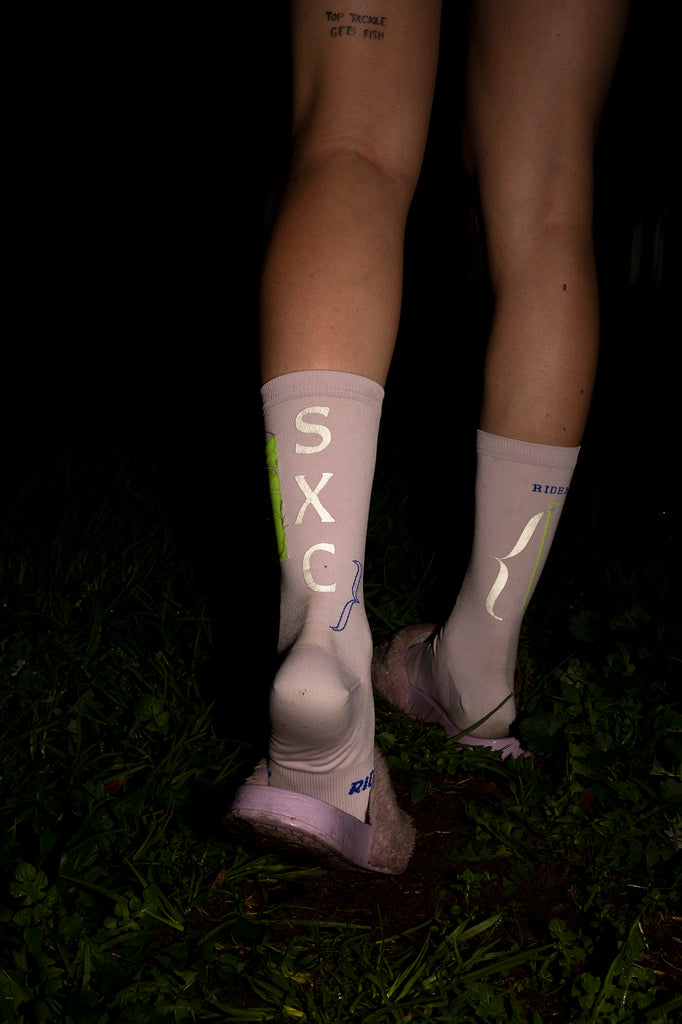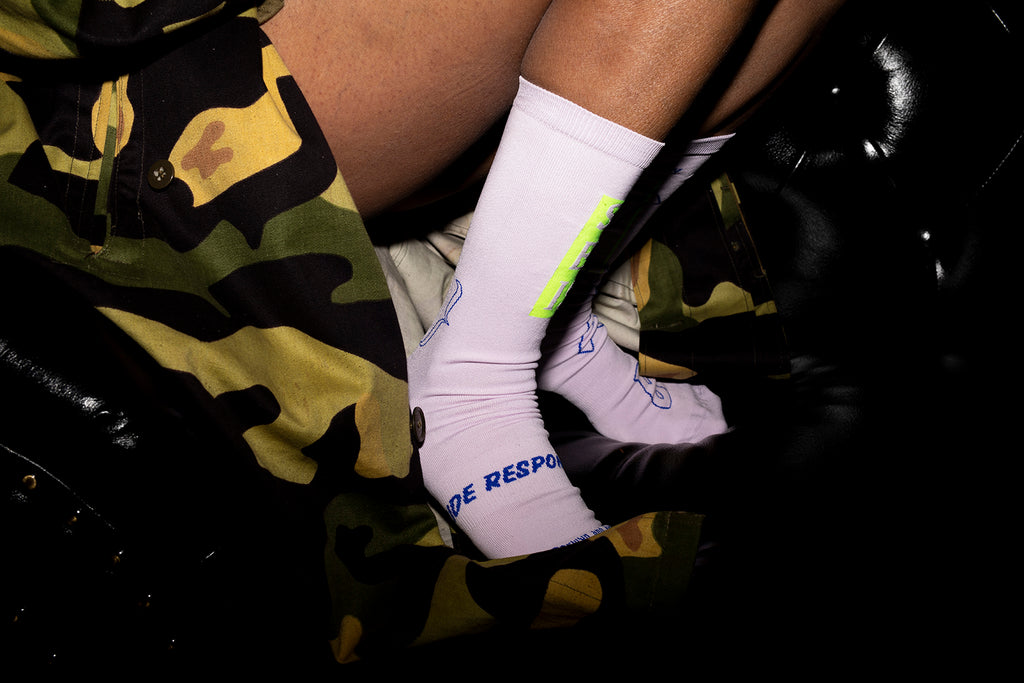 Riding Socks
A simple, non-gendered, hi-vis on and off bike accessory. The first time tBab has worked with an OS factory - read more below. 

- reflective detail on heels
- arch support
- anti-microbial
- moisture-wicking
- extra toe + heel reinforcement
34% Coolplus, 32% Nylon, 31% Protimo, 3% Lycra
size US 8.5 (one size only) 
PLEASE READ**** 
These socks do NOT come with packaging. tBab requested NO plastic from the factory - typically products each are wrapped individually with plastic to protect them during transport/handling. This means you get them wrapped in paper/fabric, something Gemma has lying around the studio, and all CARE instructions are here. 
CARE/ Please care for these like you would any special garment. Socks can be cold washed in a machine with like colours. Do NOT dry in a dryer, only line dry. Do NOT use stain remover near the reflective - this part of the sock is precious - and strong stain removers can deteriorate glues used in the reflective vinyl. 
And don't walk in mud like I did if you want them to stay lovely. 
Oh and, please don't ride like a wanker in these (or any socks..) be respectful, because you're highly visible. 
MORE ABOUT THE REFLECTIVE DETAILS/
The fabric of the socks is stretchy - as socks should be. The reflective vinyl pressed onto the socks has some stretch but is made from tiny glass beads and layers of vinyl and glue to seal these (in laymans terms). So if you pull at the socks near the reflective you might notice more wear and tear or even some vinyl coming away. Just be CAREFUL. If you find the vinyl coming off or feel the socks are faulty - reach out! Each sock is pressed individually, and this is my first experience producing socks with reflective - so please have a chat to me about your thoughts!
****Please note I opted for a larger more complicated reflective design - most designs with reflective vinyl are stripes (like my original design, which I hated) because this tends to mean the reflective is not under stress against the grain of the sock stretch. I did this for the MOST possible visibility, and for fashun, so this might mean over time you'll notice little stretch marks in the reflective. As always, reach out if you have any concerns!
Finally - these socks are designed for cars to catch the reflective at the back of your ankle - so make sure the reflective press is right at the back and your pants are rolled up for max visibility <3 Ride safe!
MORE ABOUT OVERSEAS PRODUCTION /
After speaking with all of the remaining sock manufacturers in Australia that I could get in touch with, it became obvious that to produce this sock - a tech sock with reflective details - I needed to work with an overseas manufacturer.
These socks were manufactured in Taipei, Taiwan, by a factory who have NBCU Official Factory Approval for ethical conduct and were very supportive of all my questions and requests to produce this dreamy sock. 
Please feel free to reach out if you have any questions or concerns.